Mixed Media Mechanics: Image Transfer - Recorded
IMAGE TRANSFER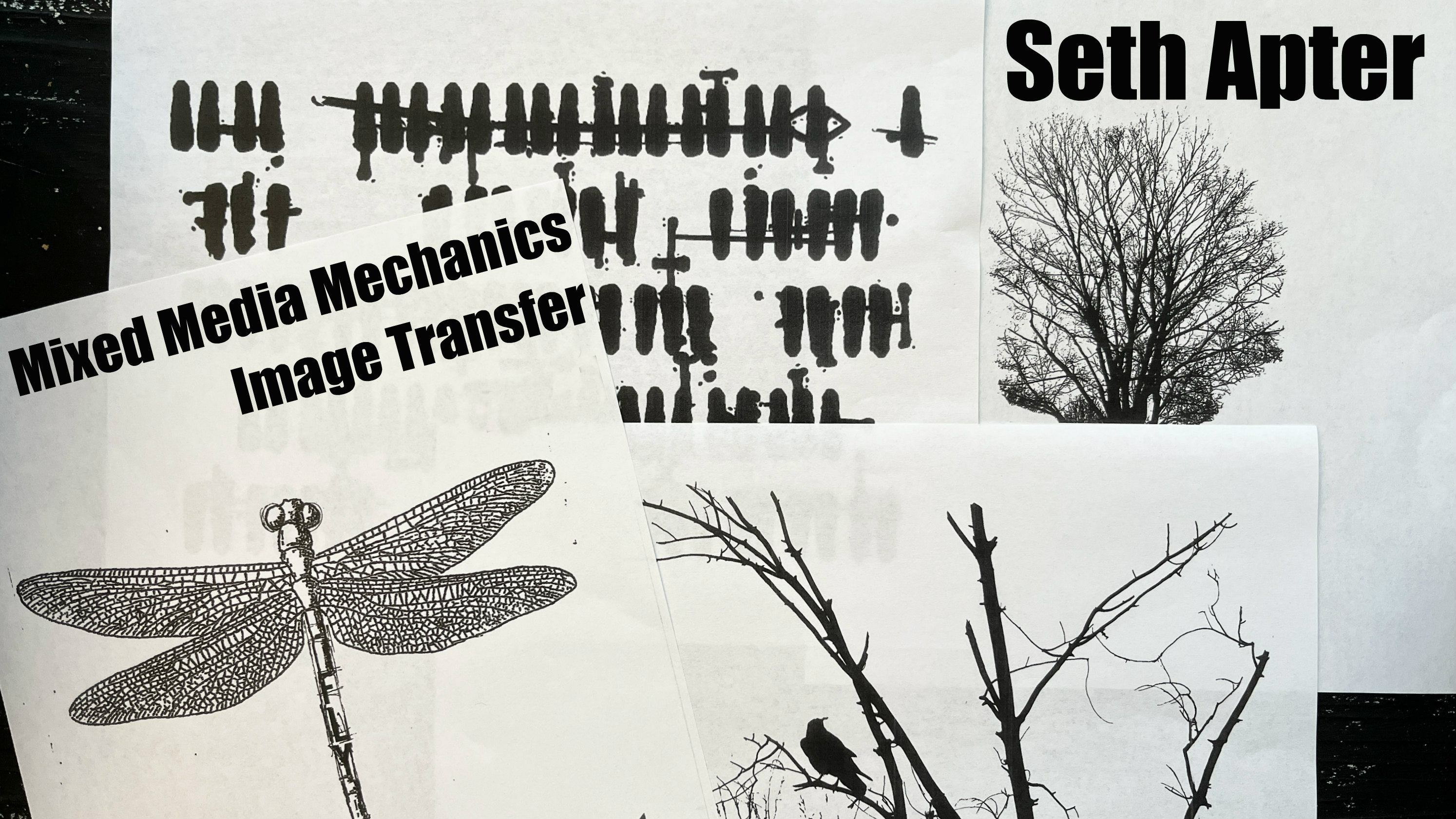 Get out your tools and join me for IMAGE TRANSFER: 1 of the 12 2-hour classes taking place as part of Mixed Media Mechanics - a once-monthly, year-long, online workshop series.
The Lowdown
Mixed Media Mechanics is a series of 12 2-hour workshops that focus on many of the techniques that are the basis for mixed media art. Think of these classes as back to basics - although they are geared equally toward beginners and seasoned pros.
The Image Transfer class was held Live in September 202. This is an edited and recorded version. 
Image transfers are an old-school technique that seems to be making a comeback, with new approaches constantly being discovered. Join me for this workshop where we will review the basics, cover my top image transfer tips, and together, step-by-step, go through a number of my favorite techniques to create transfers that are well suited for collage and mixed media work. Remember that with image transfer, perfection is over-rated as distressed and imperfect are all part of the game.
The Skinny
The workshop is hosted on YouTube.
The class includes about 1 hour and 35 minutes of instruction, broken down into 2 videos.
Please note that this is a recording of a live online class and, as such, there may be references to questions asked and comments made by participants.
Cost of the workshop is $35USD via PayPal only. Your PayPal receipt is considered confirmation that you registered. 
There are no refunds once registered.
Once you complete your purchase, you will receive an email (from Janene Kalb and usually within 24 hours of registering) that includes a PDF in the form of an email attachment that includes the same supply list as printed below as well as instructions on how to access the workshop.
The Supply List 
If you would like to work along with me, please have the following on hand. If you do not have all the supplies, please simply sit back and watch and decide at that time if you want to invest in the specific products needed. Please note that I use a some products not on this list. If you have them, you can grab them at class time. If you do not, you can always get them later if you like.
Substrate: I use primarily hot press watercolor as a substrate for direct transfers. But you can use any porous surface – paper, untreated wood, fabric, etc.
Materials to Transfer:
Please prepare a series of black and white images on regular printer paper that have either been printed on a laser printer or photocopied on a standard copy machine. Inkjet images will not work. Images with strong black and white contrast and value shift work best. Please note that text will transfer in reverse for most techniques so set your copier/printer to reverse if you are using text.

Magazine pages of text or images. Please keep in mind copyright issues if you plan to use these transfers after class.

An assortment of: newspaper clippings, scrapbook paper, napkins, and vintage book pages can be used for some of the planned techniques.
Matte medium
Blender Pen: I will be using a Chartpak AD Marker
Clear packing/shipping and/or PET tape (not masking, washi, or duck)
Shallow pan partially filled with water
Bone folder or other burnishing tool
Scissors
Paint brush (could be a paint, chip, or sponge brush)
Kitchen sponge or cloth/microfiber towel
Spray bottle with water
Gel Plate and brayer
Acrylic paint – Choose at least one very dark and one very light color
Blue painter's or washi tape
Paper towel or cloth for clean up