Mixed Media Mechanics: Book Arts - Recorded
BOOK ARTS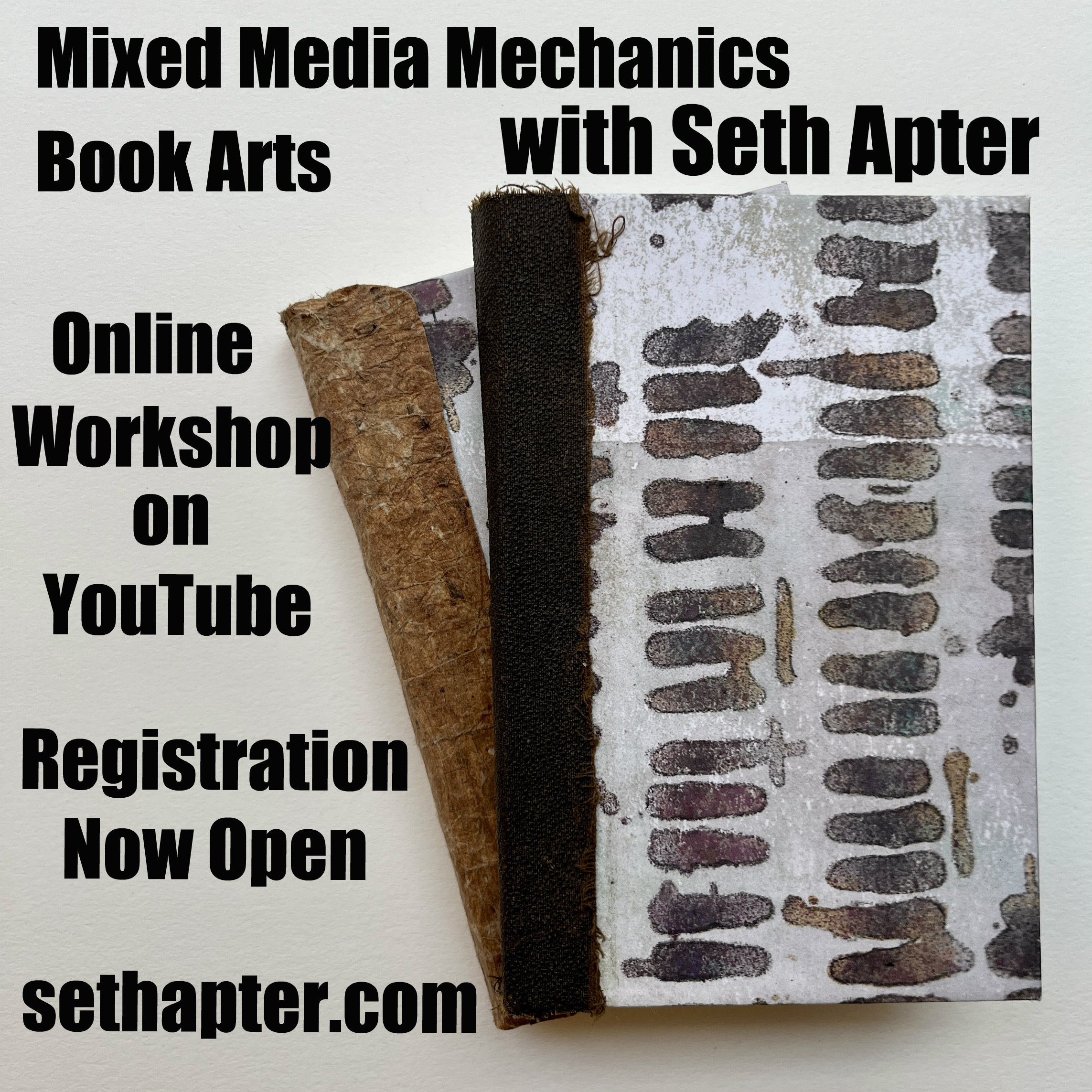 Get out your tools and join me for the recorded version of BOOK ARTS: 1 of the 12 classes taking place as part of Mixed Media Mechanics - a once-monthly, year-long, live and recorded online workshop series.
The Lowdown
Mixed Media Mechanics is a series of 12 workshops that focus on many of the techniques that are the basis for mixed media art. Think of these classes as back to basics - although they are geared equally toward beginners and seasoned pros. 
The Book Arts class was held live via Zoom on Tuesday February 7, 2023. This is an edited and recorded version. We will be making a book structure with a sewn and modified case binding. While my approach allows for some level of wonkiness, any case bound book requires measurement and precision. As such, we will all be making a book with the same measurements and number of pages. Many materials need to be precut if you choose to work along.
The supply list can be found at the end of this description.
The Skinny:
The workshop is hosted on YouTube.

The class includes just over 1 hour and 50 minutes of instruction, broken down into 3 videos.

Please note that this is a recording of a live online class and, as such, there may be references to questions asked and comments made by participants.

Cost of the workshop is $35USD via PayPal only. Your PayPal receipt is considered confirmation that you registered. 

There are no refunds once registered.

Once you complete your purchase, you will receive an email (from Janene Kalb and usually within 24 hours of registering) that includes a PDF in the form of an email attachment that includes the same supply list as printed below as well as instructions on how to access the workshop.
Supply List
A Q&A was held via Zoom before the live class to answer questions about the supply list and you will receive a link to the recording should you want to watch before taking the class. 
90lb Watercolor Paper: 25 sheets precut to 9" width x 6.75" height for your pages
Decorative Paper: 2 sheets precut to 9" width x 6.75" height for your endpapers
Book Board/Chip Board: 2 pieces precut to 4 5/8" width x 7" height
Decorative Paper: 2 sheets 6 5/8" height and 9" width for your covers
Binding Strip: 7" height x 3" width (or larger if you want to cut it down in class after your book is put together) and made from material such as canvas, real/faux leather/suede, heavyweight, fabric, vinyl wallpaper, or binding tape. In other words, the material needs to be sturdy enough to keep the book together, handle wet glue and resist tearing while at the same time being pliable.
Waxed Linen Thread (at least 4 feet in length which gives you a little extra)
Bookbinders or Tapestry Needle (large enough for your choice of thread)
Ruler
Awl or Pokey Tool
Scissor
Craft knife/cutting mat (optional)
Bone Folder (optional but helpful)
PVA or other liquid glue (have a glue stick on hand too)
Glue Brush
Scrap paper to use as a protective surface for applying glue
One sheet of card stock (color doesn't matter)
Pen or Pencil
Water container and water
Baby Wipes and/or Paper Towel/Clean-Up Cloth